About Cecil Jones Academy
Learning Resource Centre
Welcome to the Library at Cecil Jones Academy
What are you reading?
Opening Hours
Monday – Friday 8:00AM-4:00PM
The Cecil Jones Library is open to all before school, during break and lunchtime and after school every day. All students are able to take a book out for 4 weeks at a time and with thousands of books to choose from we aim to encourage all students in reading for educational growth as well as for pleasure.
"Every child has the right to read for the joy of it and have access to new books" – Cressida Cowell (The Children's Laureate 2019-22)
About Our Learning Resource Centre
The Library at Cecil Jones is a versatile space, offering curriculum support, library lessons and a friendly environment to our students, staff and visitors. Whether students need revision guides for their chosen subjects, or want to try a new book series, our Librarian Miss Wellington is on hand to help guide and direct.
There are an abundance of activities taking place within the space including:
Accelerated Reading Programme
Our year 7 and 8 students take part in the Accelerated Reader initiative where they compete within tutor groups to obtain the most points. Every Reading Practice Quiz has a point value assigned to it based on the book level and the word count of the book (the book's difficulty and length) this helps encourage and make reading fun and helps pupils to improve their reading and literacy skills!
Individually, students can read to get points towards earning reading badges.
Milestones:
500,000 – Bronze Book worm Badge and Certificate
1 million – Silver Book worm Badge and Certificate
2 million – Gold Book worm Badge and Certificate
3 million – Golden Owl Book worm Badge and Certificate
5 million - Choice of book for the library with sticker and Certificate

Reading Sessions
Our Year 7, 8 and 9 students all participate in timetabled reading lessons where they are able to change their reading book and complete quizzes on Accelerated Reader. In these sessions, the classes also read a book aloud together to support the development of spoken language and comprehension skills. Some of the books that the classes have enjoyed have been, Trash by Andy Mulligan and Skulduggery Pleasant by Derek Landy.
Homework Club
Homework Club is held after school on Tuesday, Wednesday and Thursday and students of all year groups are welcome to attend to and have access to the computer suite to ensure their homework is completed.
Author Visits
Our library space has most recently hosted an author visit. Jennifer Claessen, author of The October Witches, came to talk and do a creative writing workshop with some of our Year 7 and 8 pupils.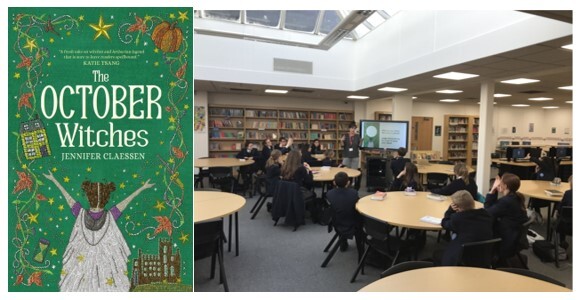 Here is a review from one of our students about the event
"Jennifer Claessen has really inspired me to move forth in my writing passion and I now understand how many stages a book must go through before being published into a real and beautifully written story with an incredibly intriguing plot full of plot-twists"
Drop Everything and Read
During tutor every Thursday the whole school participates in DEAR time where we all, teachers included, drop everything we are doing to take some time to read. During this time the Library is used by our sixth form students who hear our Year 7 students read aloud to them.
Chess Club
Chess club is run by students for the students, with a running leader board on display in the library!
Miss Wellington Recommends….
Here are some must-read suggestions from our librarian!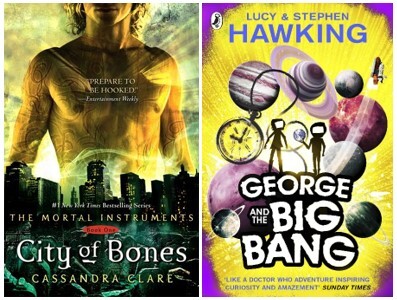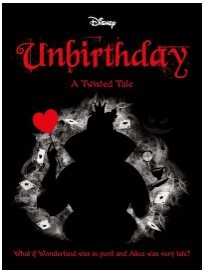 City of Bones – Cassandra Clare
George and the Big Bang – Lucy & Stephen Hawking
Unbirthday, A Twisted Tale – Elizabeth J Braswell (Disney)