Business Studies

Course Description
We, the teachers in our department, always aim to demonstrate the real world to our students so that they gain a better understanding of how the local, national and international economies and businesses work and how they impact on their lives now and in the future. Our aim is to open avenues for our students and to be innovative and creative in our delivery of the concepts under study. The courses available for students are dynamic in nature. They allow students not only to develop academically and acquire many transferable skills for the future, but also gain a practical view of how things work in a wider context which can support employment. Students develop their knowledge in a supportive and stimulating environment enabling virtually all to progress and achieve real success. The courses available set solid foundations for higher education as well as for the job market.
We share a keen interest in the subject, a positive approach to our work and a commitment to bring out the full potential of each and every one of our pupils. We aim to involve pupils in a variety of approaches and experiences. We encourage independence of thought yet also provide opportunity for our pupils to work in a co-operative manner, sharing ideas and developing communication skills. There is a real emphasis on making the learning of concepts fun, interactive and visual. We use many mediums to give our students understanding of topics and this is also supported by well designed, and heavily resourced, schemes of work, ensuring that the specifications and learning criteria are met fully. Students work on examination skills during year 12 to ensure they are confident in assessment and written work ahead of the exams at the end of year 13.
A Level Business Studies
Why study A Level Business Studies?
A-level Business Studies helps students:
Develop a critical understanding of organizations, the markets they serve and the process of adding value
Build awareness that business behaviour can be studied from the perspectives of a range of stakeholders
Acquire a range of skills including decision-making and problem-solving in business contexts
Understand current structures of business and business practice as well as the impact of legislation
Gain an insight into a wide range of career possibilities including Accounting, Finance, Marketing, Human Resources and Operations
What will you study?
Across the two year course you will build an understanding of the following areas:
Theme 1: Marketing and people

Theme 2: Managing business activities

meeting customer needs
the market
marketing mix and strategy
managing people
entrepreneurs and leaders

raising finance
financial planning
managing finance
resource management
External influences

Theme 3: Business decisions and strategy

This theme develops the concepts introduced in Theme 2.

Theme 4: Global business This theme develops the concepts introduced in Theme 1

business objectives and strategy
business growth
decision-making techniques
influences on business decisions
assessing competitiveness
managing change

globalisation
global markets and business
expansion
global marketing
global industries and companies
Is a business study A-level right for me?
Do you like:
Communicating and explaining your ideas
Thinking creatively and making decisions
Working with numbers to solve business problems
Learning about the world of business through research and investigation, as well as through practical tasks then the A Level Business course is the RIGHT subject for you.
What do I need to know, or be able to do, before taking this course?
It doesn't matter if you haven't studied Business prior to taking this course. You might have an interest in business, and want to start your own business one day. You may have an enquiring mind and be interested in learning about the world around you, how businesses are set up, and what it is that makes someone a great entrepreneur. This course will help you to understand all this and more.
You will be encouraged to use an enquiring, critical and thoughtful approach to the study of business, to understand that business behaviour can be studied from a range of perspectives and to challenge assumptions. This course will deepen your knowledge of business as well as support career choices by exploring the different areas of businesses.
Where will it take me?
Work based training or apprentice scheme
University
Employment
Starting your own business
"Business and related subjects including finance and economics are among the most popular fields of study at universities worldwide, particularly at graduate level business graduates are in high demand worldwide, business touches on pretty much every aspect of modern human society, careers with a business degree are diverse and often highly paid."
http://www.topuniversities.com/courses/business-management-studies/why-study-business
Useful Business resources:
You will be provided with this textbook for the duration of your studies:
Other useful resources include:
https://www.tutor2u.net/business
https://www.bbc.co.uk/news/business
https://www.gov.uk/browse/business
Here is a reading list of some useful reading alongside your Business Studies A level:
How I Made It: 40 Successful Entrepreneurs Reveal How They Made Millions
- Rachel Bridge
An essential read for anyone that is thinking about starting their own business. Successful Entrepreneurs are interviewed about how the spotted a gap in a market, and developed a USP.
The Tipping Point: How Little Things Can Make a Big Difference
A very readable and fascinating book, which looks into the reasons products become market leaders.
- David A. Vise
An interesting investigation into the culture at Google, includes insights into the four day working week and soft management styles. The questions is; are these the things that made Google the world's number one search engine?
The Toyota Way: 14 Management Principles from the World's Greatest Manufacturer - Jeffrey Liker
Covers Japanese Management Techniques such as Kaizen and TQM.
Billions of Entrepreneurs: How China and India Are Reshaping Their Futures and Yours
An investigation into Asia's two growing economic powers.
Business Stripped Bare: Adventures of a Global Entrepreneur
- Sir Richard Branson
The autobiography of Britain's most famous entrepreneur.
Sun Tzu - The Art of War for Managers: 50 Strategic Rules Updated for Today's Business
- Gerald A. Michaelson
Applying the ancient Chinese rules of battle to modern day business.
- Benjamin Graham
The classic book on stock market investment, as recommended by Warren Buffet.
- Naomi Klein
Klein investigates the negative side to marketing and globalisation.
House of Cards: How Wall Street's Gamblers Broke Capitalism
- William D Cohan
Explains the reason behind the continuing global financial crisis, which started in September 2008.
Here is an example watch list of some of the TV which supports learning in A level business: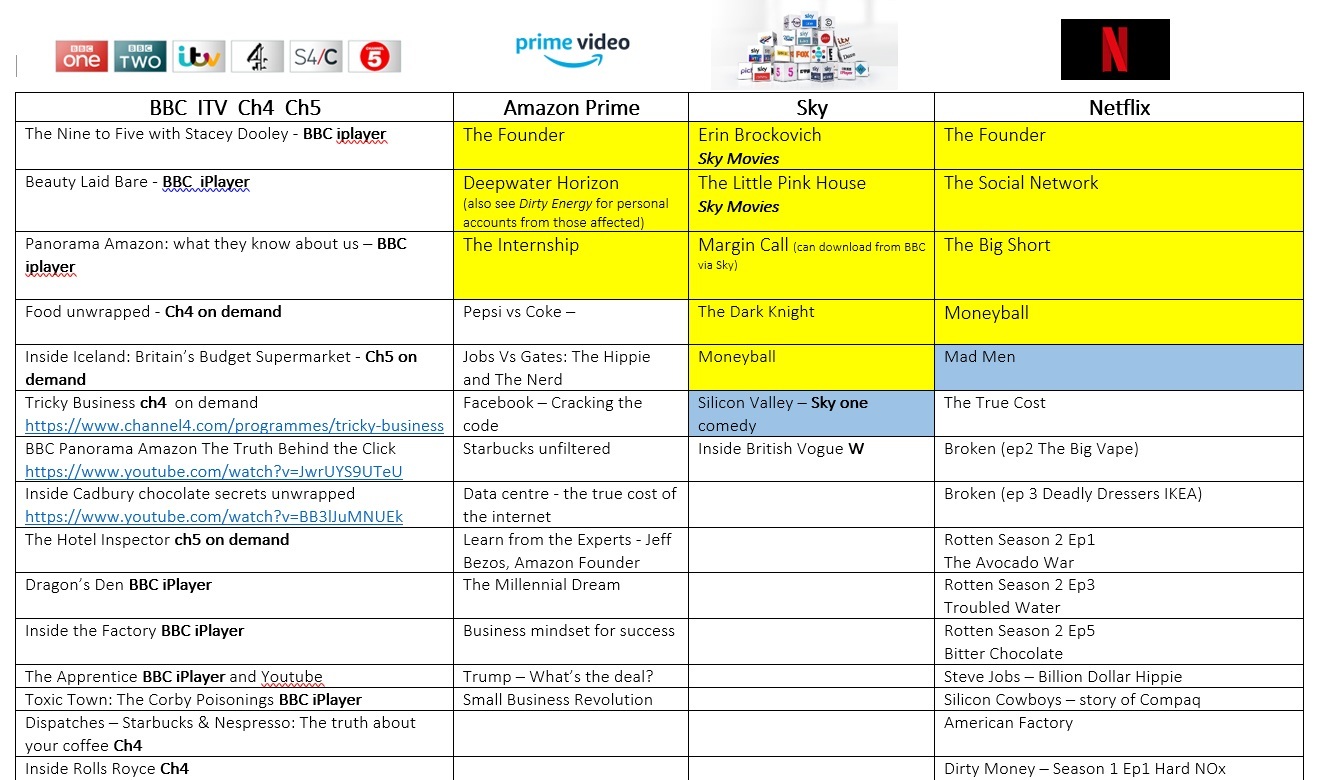 Visual Curriculum Map