Drama and Theatre Studies

Course Description
Areas covered within the specification: the course has three components to it. Component 1 is a devised unit which is 40% of the course. For this unit, students will be expected to study the play Metamorphosis identifying key themes and issues explored within the play. They will then need to create a devised performance based on their research using Frantic Assembly techniques and style. To accompany the performance which will be internally marked and assessed, the students will need to complete a 2500-3000 word essay which outlines their research and records their process and decisions made throughout the rehearsals. Component 2 is a scripted unit. This is worth 20% of the course. Students will take part in a group performance of Our Country's Good or 4.48 Psychosis. They will also choose a monologue.
Students will rehearse these and perform them to an external examiner. Component 3 is a written exam. For this unit, Students will study 2 plays, Accidental Death of an Anarchist and Hedda Gabler. They will learn how theatre makers would put these plays on as successful performances. Students will also have to watch a live theatre show (in the past, we have taken them to see 'The Curious incident of the dog in the night-time') and they will have to review this performance in response to statements asked in the final exam paper.
Specification website
https://qualifications.pearson.com/en/qualifications/edexcel-a-levels/drama-and-theatre-2016.html
Homework expectations
students are expected to complete both written and practical homework, whether that's learning lines, sourcing sound and music for productions, gathering appropriate props and costume, completing PowerPoints and flashcards for performance presentations, written research from the internet or other book sources put into their own words, practise exam questions or improvement on 3000 word essay for component 1.
Trips / Visits
Students will be expected to go on at least 1 trip in order to answer the first section of their exam paper for component 3. Other trips and visits will be offered to them as and when theatre productions come up.
Curriculum
The year 12 students will study the following curriculum in drama:
Autumn 1 & 2 – accidental death of an anarchist
Spring 1&2 Hedda Gabler
Summer 1&2 devising
Brecht
Stanislavski
Metamorphosis
Comedia dell arte
Mental health
Researching the themes of the play and Kafka
Farce and satire
Shocking content and audience reaction
Frantic assembly workshops
Understanding the play
Making connections to modern day issues and problems
Frantic assembly research
Developing and creating characters
Understanding the play
3000 word portfolio completed in chunks
Set, costume, lighting and sound design
Understanding the characters
Planning and devising a story based on research
Performance presentations
Set, costume, lighting and sound design
1st half Portfolio will consist of your research on Kafka, the themes of the play and chosen practitioner research

2nd half of portfolio will be an account of your devising process – what you experimented with when making the piece. This will be taken from rehearsal logs/notes.

Practice exam questions
Performance presentations
Practice exam questions
Rehearsals and blocking scenes
The year 13 students will study the following curriculum in drama:
Autumn 1

Complete Devised Unit

Autumn 2

Revision for Mocks

Reading and researching scripts

Spring 1&2

Scripted unit

Summer 1

Revision for Component 3

Final rehearsal stage
Revise Accidental death of an Anarchist
Blocking & rehearsing group play (4.48 or Our Country's good)
Revise Accidental death of an Anarchist
Sound, lights, costume

Revise Hedda Gabler
Blocking and rehearsing chosen monologue
Revise Hedda Gabler
Complete a 2nd and final draft of 2500-3000 word portfolio
Revise and update 500 word notes for Live theatre review
Learning lines – page to stage
Revise and update 500 word notes for Live theatre review
Perform to an audience (Marked and assessed by Mrs Rolfe)
Reading National theatre monologues books (selecting a monologue)
Completing 150–250 words per character played
Complete practise questions
Reading 4.48 Psychosis and Our Country's Good
Sound, lights, costume
University challenge quiz
Performance to audience and visiting examiner
KS5 Edexcel Drama and theatre studies assessments and expectations:
There are 3 components to the Edexcel Drama and theatre studies A level course which are listed below. For component 3, the students will study and answer questions on the play Accidental Death of an Anarchist in Section B and for Section B, they will study and answer questions based on the play Hedda Gabler. For Section A, the students will be taken to see a play to review.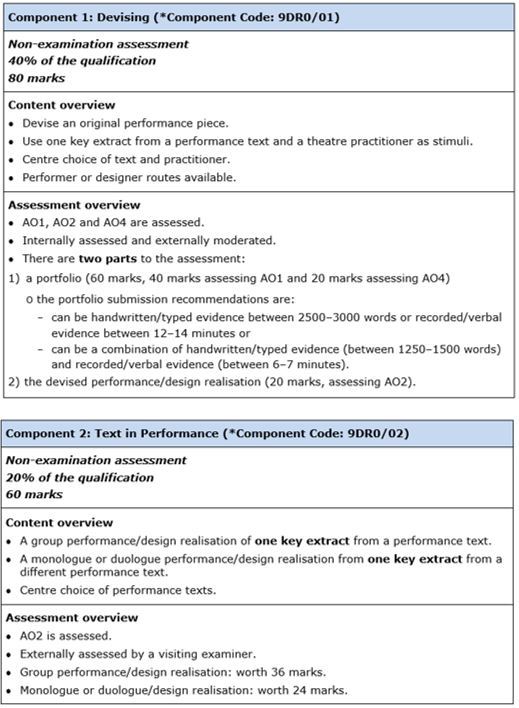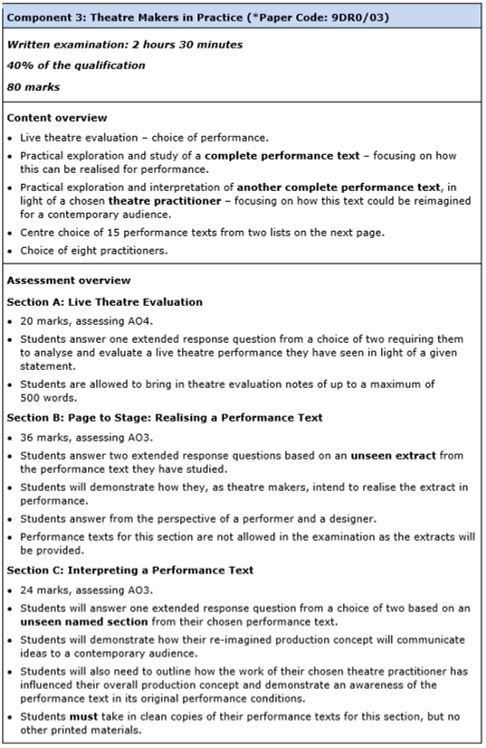 Methods of Delivery
All of the course will be delivered in a very practical way! Hedda Gabler and Accidental Anarchist will be explored practically in the first year. Students will complete performance presentations of these plays. This way, they will have flashcards created ready to revise from in year 2.
The devised unit will start in the summer term of year 1 where the students will start to research the play and the playwright Kafka. They will start to create their own storylines and take part in Frantic Assembly workshops. In year 2, the students will perform their devised performance and complete their coursework and then start work on their scripted pieces. This will leave the summer term to recap the exam paper and practice exam technique.
Careers
Visual Curriculum Map
Drama